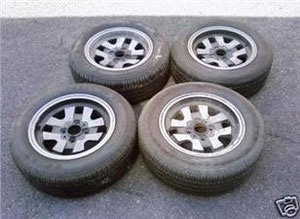 I wanted to fit some light alloy wheels on my Coupé. After a bit of research, I found some Amil alloy wheels that came from a Simca 1000 Rallye 2. I was not sure if they would fit in the tighter wheel arches of the Coupé, but decided to go for the gamble, since the price of the wheels was fair, if not exactly cheap. After a bit of searching, I got lucky on eBay.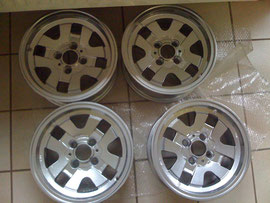 I found a local company in Luxembourg that was willing to sand the wheels down and apply an inox-look powder coating. It was not cheap, but I am very satisfied with the results.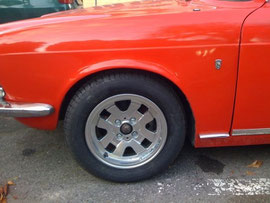 As you can see, the wheels and tyres sit snugly in the wheel arches of the Coupé, no touching or scraping, even at high-speed turns !
The specifications of the tyres are as follows:
Wheels: Amil Sport Rallye 5 inches
Tyres: Semperit Speed Comfort 185/60R13
I needed some special bolts to fix the wheels and found the right ones at a FIAT dealer, catalog number 590.150